Hydra Dermabrasion and Dermal Infusion
Using the power of water at supersonic speed, this is a deeply nourishing 5-step treatment performed with the Hydra Skin Refiner.
Quick results with lasting improvements!
In a nutshell, hydro-dermabrasion is a non-invasive, multi-step treatment combining the benefits of microdermabrasion, a chemical peel, automated painless extractions, a special delivery of antioxidants, hyaluronic acid, peptides, and an infusion of oxygen. It does all of this in one quick treatment that delivers results with no downtime or irritation.
The Hydra Dermabrasion, also called Fusion Facial, Aqua Dermabrasion, Wet Microdermabrasion, Hydra Facial or Aqua Facial is the same process of exfoliation. The machine uses special serums that are being pushed into the deeper layers of the skin while the exfoliation process is going on. Jamie or Melissa will choose specific serums that address acne, hyperpigmentation, or pro-youth and hydration. A standard microdermabrasion method cannot achieve this.
This revolutionary and comprehensive skin resurfacing technology is perfect for all skin types that will leave the skin clean, soft, and radiant.
Hydra-dermabrasion will help to improve the appearance of:
• Early aging fine lines and wrinkles
• Hydration
• Blackheads and whiteheads
• Enlarged pores
• Excess oil condition
• Overall skin health
What IS Hydro-Dermabrasion and how does it work?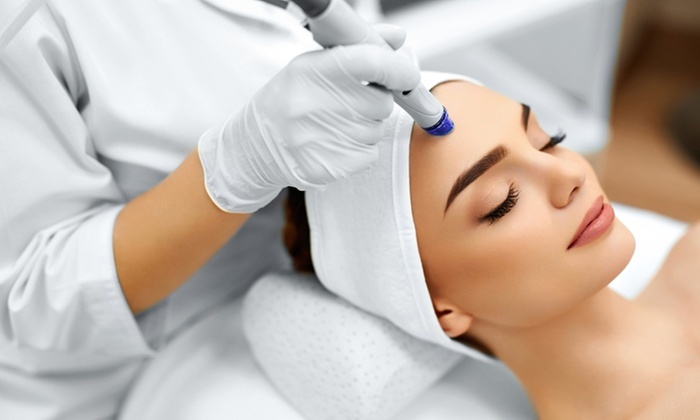 Hydro Dermabrasion is a crystal free method to the microdermabrasion process. It is the latest renovation in skincare technology. Utilizing water jets, the outer layer of the skin will be broken up. This will reveal a smoother, more even texture of the skin. It is perfect for those that want to exfoliate the skin but have extremely sensitive skin. This procedure is gentle and very relaxing, with no discomfort felt. Skin will be slightly pink after treatment, but will subside quickly thereafter. Hydro dermabrasion is used on all skin types, and will help aging skin, skin that is congested, blemished skin, or dull and discolored skin. Oily skin can benefit to make it less greasy, and pores can become smaller. Mild acne scars can be reduced, and fine lines can be decreased. Puffy eyes have also been treated using hydro dermabrasion. There will also be an increase in circulation and lymph flow. Skin will see results immediately after the procedure. Skin will be soft and feel hydrated.
Each step of this treatment will be customized to help you achieve your specific goals:
Deep Cleansing – the use of water at supersonic speed gently cleanses the skin of debris gradually accumulated over time

Exfoliation – dead layers of skin are removed and vacuumed away leaving the pores clean and smooth

Extractions – sebum and oil has now been softened with the prior steps. An extration serum and hydro vacuum creates an effect to delicately dislodge & remove blackheads, whiteheads and sebum, allowing for quick and painless extractions.

Nutrient infusion – water along with antioxidants, peptides and other nutrients are infused into the skin to correct your specific concerns

Oxygen/Serum – this final step is a beautiful, radiance-restoring mist to provide additional oxygen and hydration to the skin
Hydro Facial Express ……….$99/30 minutes
~ deep cleansing, enzyme exfoliation, extractions, dermal infusion
Signature Hydro Facial …….$155/70 minutes
~ deep cleansing, enzyme application, extractions, high performance mask, shouler/arm/hand massage, dermal infusion
Add Progressive Peel $15
Add 15 minutes LED Light Therapy Treatment $15
Add Rezenerate Micro Channeling $35
Disclaimer: Though the services are extremely identical, our equipment is not the trademarked HydraFacial or HydraFacialMd. However, we use identical serums and the technology is the same.