Virtual Skincare Consultations and Spa Facial Kits
There has never been a better time that to create an excellent skincare regime that will leave lasting impressions. Jamie is avialabe for virtual skincare consultations. Already have a skincare regime? Awesome sauce!! How about an "At Home Spa Facial" kit? Jamie is putting together some fun spa facial kits. Shipping is FREE!! If you are local, I can drop off on your door step.
Here are the options.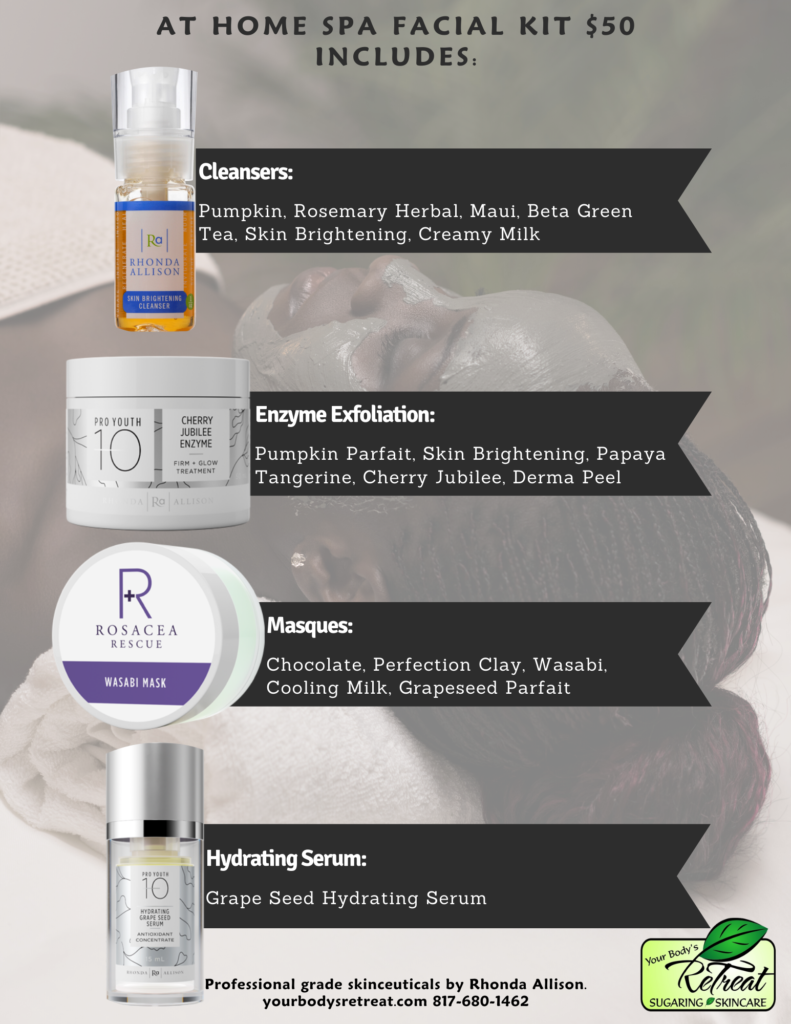 Pro-Youth ~ $59
Brighten and Un-Blemish ~ $59
Hydrate & Glow Up! ~ $59
Mommy to Be ~ $59
Create your Own! ~ $59
Each 4 piece kit is will come with a fun surprise and is complete with
Cleanser
Enzyme Exfoliator
High Performance Masque
Hyrating Serum Based Moisturizer
Addtional Add-Ons are available
100 mg CBD Bath Bomb ~ $15 each
To Go Spa Eyes & Lips ~ $6 each set
Sheeky Foot Foot Peel (great for calloused feet) ~ $20
Image Hydrating Sheet Masques (I use mine more than once) ~ $10
Text Jamie at 817-680-1462 or Email: Jamie@yourbodysretreat.com for your "At Home Spa Facial" Kit. Let me know which kit(s) you would like or your customization. I am more than willing to help guide you with your decision.
More skincare items of course are available. Corrective serums, eye gels, Vitamin C etc etc. Please reach out to me. I would love to help you with your skin concerns.