How much does Sugaring Cost?  The cost of body sugaring will depend on the size of area, density of hair, amount of time and product used. Consider too, the experience of the sugarist.
Body Sugaring Hair Removal Rates are subjective due to the size of area and density of hair. Hair removal rates will never exceed the range listed below.
Please have at least 10 days of hair growth prior to hair removal treatments.
Please DO NOT use any lotions or oils, including body washes that contain oil on THE DAY OF your appointment.
Please DO NOT shave or tweeze any hair between appointments.
Retin-A, Accutane, Acid Peels such as glycolic are skin thinning and contraindicated for hair removal.
REMEMBER: Exfoliation & Hydration will help alleviate ingrown hairs and will also improve the quality of your hair removal sessions. When the skin is dry and tight, hairs have a difficult time pushing through the skin resulting in ingrown hairs. The skin will aslo hold on to hairs during hair removal appointments resulting in hair breakage.
*VIP Discount*: You will be offered a "V.I.P. Loyalty" rate on Brazilian services. Special deals, incentives and promotions will not be applicable toward V.I.P. Loyalty rates and you must return every 4 weeks to receive the V.I.P rate. Typically, the V.I.P. loyalty rate for Brazilian clean ups is between $55-65.00, again depending on density. Some refine very well and exceptions are made for those individuals. We consider time and amount of product to be used when making this determination.
***All Hair removal services are rendered professionally and should never be confused with anything sexual.***
The cost of sugaring services with descriptions are as follows. Call or text us at 817-680-1462 should you have any further questions regarding sugaring services for men and women.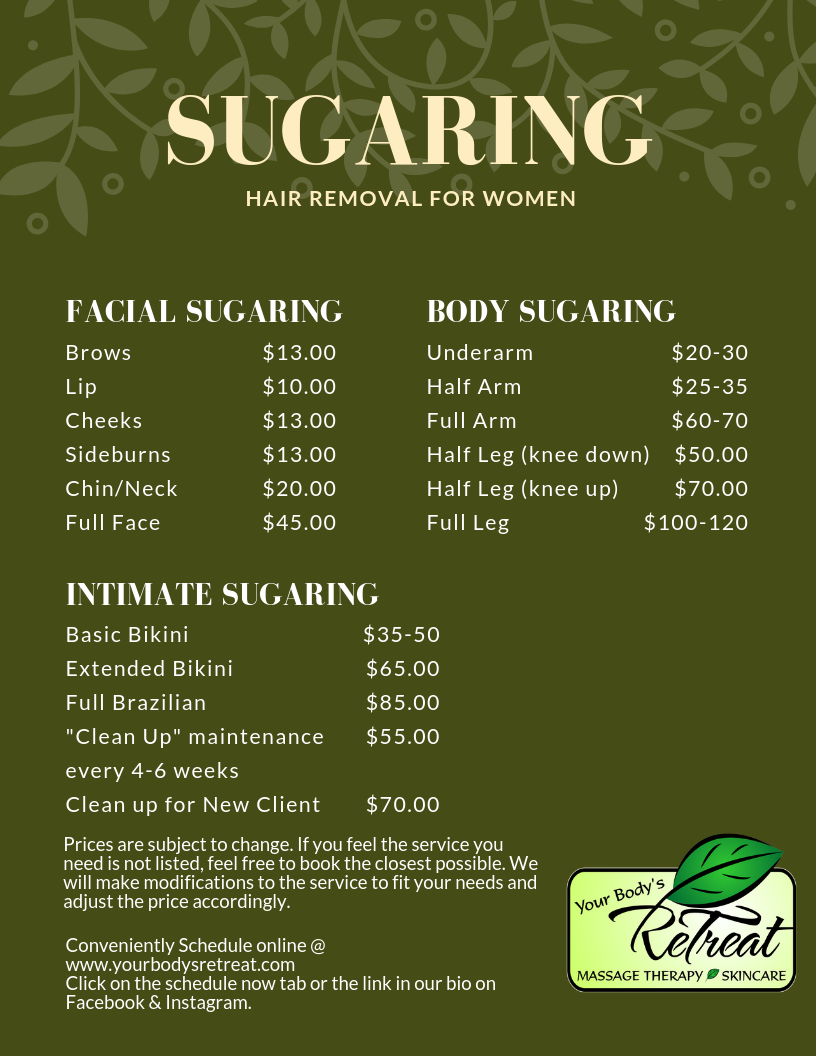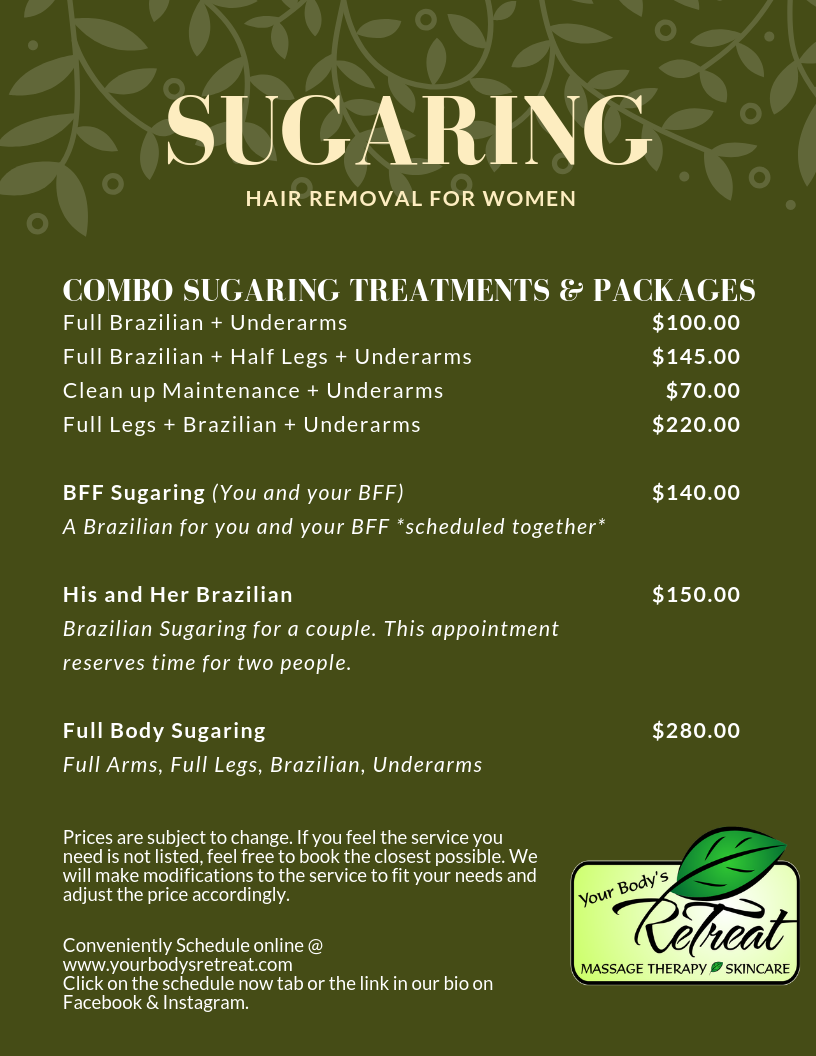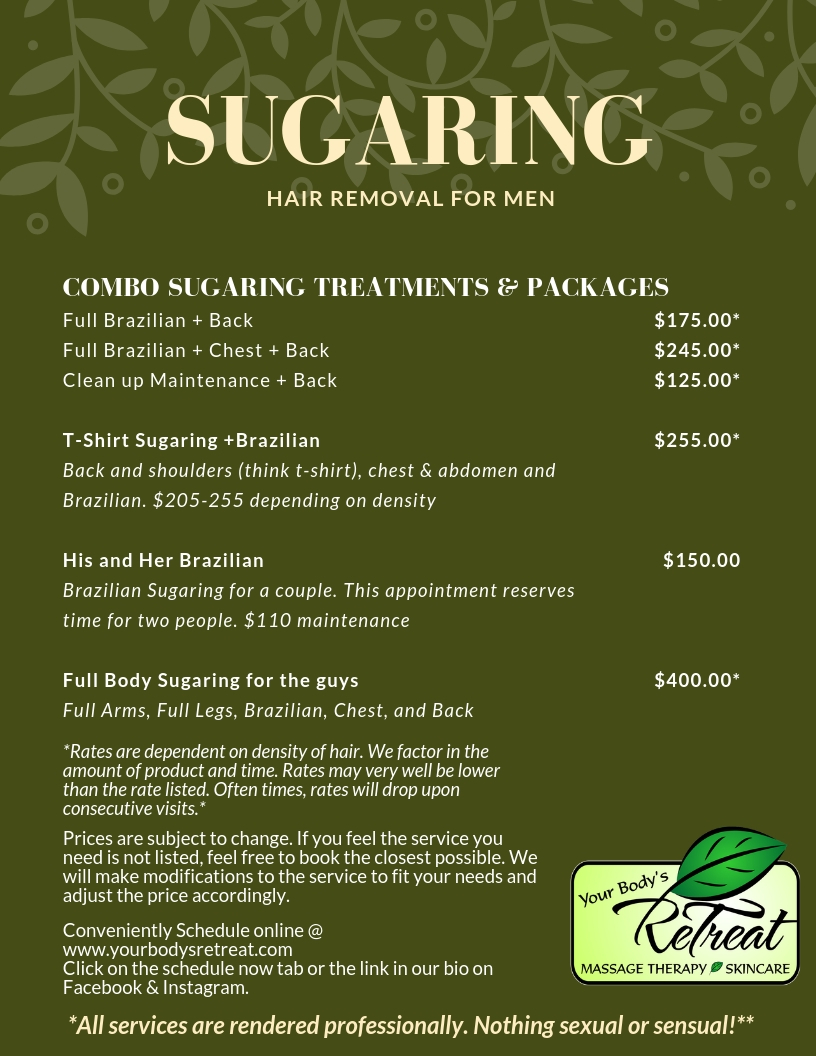 | | | | |
| --- | --- | --- | --- |
| Face and Body Sugaring General | Sugaring for Women | Sugaring for Men | Packages and Couple's Packages |
| | | | |
| One area Facial Sugaring ~ $10-15 | Bikini Sugaring: This removes hair from the bikini line, the hair that would show outside of a bikini swimsuit. ~ $30-50 | Manscaping : Trimming with either a #1 or #2 guard. NO SHAVING! Full body trimming is typically $70 and will take nearly an hour while a small area will be $25~ $25-$70 | Couple's Sugar Package * ~ $275 |
| Full Face Sugaring ~ $30- $45 | Women's Extended Bikini/Partial Brazilian: More than a bikini, less than a full Brazilian ~ $70 | Men's Mankini/Partial Brazilian: More than a mankini, less than a full Brazilian. Most who choose this will remove all hair except for the pubic mound ~ $70 | Full Legs + Brazilian + Underarm ~ $225 |
| Half Leg Sugaring (knee down) ~ $40-55 | Women's Full Brazilian Sugaring (First Visit) ~ $85 | Men's Brazilian Sugaring (first visit): ALL hair, front and back. Includes the tail feathers (buttock strip) but not cheeks ~ $95 | Men's Brazilian + Back ~ $135-175 |
| Half Leg Sugaring (knee up) ~ $50-80 | Clean Up Maintenance Brazilian Sugaring (loyalty rate every 4-6 weeks) ~ $55 | Clean Up Maintenance Brazilian Sugaring (loyalty rate every 4-6 weeks) ~ $55 | His and Her Brazilian Sugaring ~ $150; Couples, visit together and save some bucks! |
| Full Leg Sugaring: BOTH legs, from the thigh to the ankle including feet and toes if you desire. ~ $100-150 | | Tail Feathers: Hair between the cheeks ~ $25 | BFF Sugaring * ~ $140 : Ladies, bring a friend and together you will save $30 |
| Underarm Sugaring ~ $25-30 | | Full Moon: All hair on the buttocks and between cheeks ~ $40 | Men's T-Shirt* + Brazilian ~ $200: Back + Chest + shoulders + Brazilian |
| Half Arm Sugaring : From the elbow to the wrist, including hands and fingers if you desire OR from the elbow to the shoulder.~ $40-60 | | Back Sugaring ~ $50 – $80 | Women's Full Body Sugaring ~ $300: Includes full arms, full legs, underarms and Brazilian |
| Full Arm Sugaring: BOTH arms, from the shoulder to the wrist including hands and fingers. ~ $55-75 | | Chest Sugaring ~ $60-75 | Men's Full Body Sugaring ~ $425: Includes full arms, full legs, back, chest, abdomen, Brazilian and can take up to 5 hours |
| Abdominal Sugaring ~ $25-30 | | Caterpillar (Ear Sugaring) ~ $25 | Need a package deal put together? Please text or call 817-680-1462 and let us know how we can serve you. |