How much does Sugaring Cost?  The cost of body sugaring will depend on the size of area, density of hair, amount of time and product used. Consider too, the experience of the sugarist.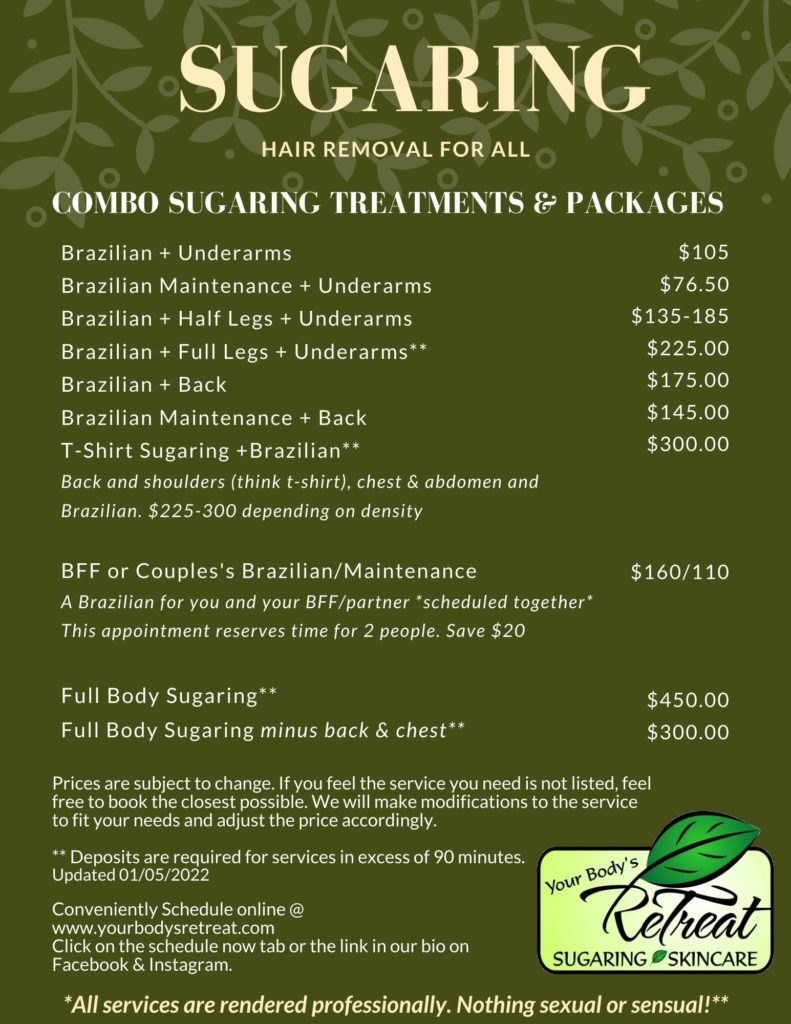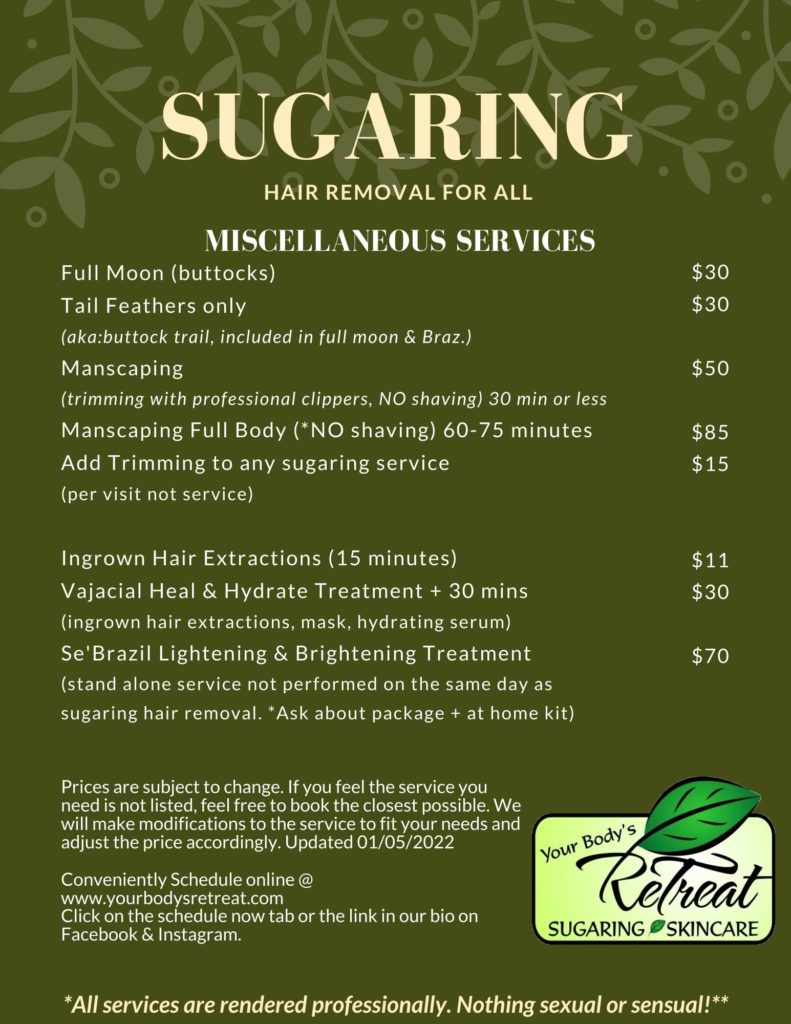 Brazilian Sugaring ~ $90
All the hair from the genitals is removed, including the mound and the butt strip (between the cheeks). Includes trimming down of excess hair. If you would like to leave a landing strip or modest amount of hair, please inform your sugarist prior.
Brazilian Maintenance ~ $75
Maintenance of a Brazilian service. This does NOT include trimming. $75 ($60 if you visited with us less than 6 weeks prior**) **In lieu of a monthly membership, Your Body's ReTreat will give clients a $15 incentive break if they have visited with us for their Brazilian in less than 6 weeks. This is given upon checkout.
Partial Brazilian/Bikini Sugaring ~ $55
Sugar hair removal of any hair at the bikini line. Removal of any hair that would typically show outside of a bikini swimsuit. This includes those who want mostly a Brazilian but decide NOT to sugar the pubis mound.
Trimming ~ $15
If your hair needs to be trimmed for any service, there is a $15 fee. Trimming is included in most services. The cost of the service reflects the total amount, including trimming. We use professional grade clippers and guards. The sanitation and disinfection of the clippers takes 15 minutes minimum. It is for this reason why we charge.
Underarm Sugaring ~ $25
Facial Sugaring (1 area) ~ $15
Brows, lip, chin, neck, cheeks, sideburns
Caterpillar (Ear sugaring) ~ $30
Facial Sugaring (2 areas) ~$25
Full Face Sugaring ~ $45
Back Sugaring ~ $55-85
From the nape of the neck down to the bottom of the torso
Chest Sugaring ~ $55-75
From above the collar bone to under the torso. Includes abdomen.
Half Arm Sugaring ~ $50
Full Arm Sugaring (includes underarm) ~ $75
BOTH arms, from the shoulder to the wrist including hands and fingers.

Half Leg Sugaring (knee down) ~ $55
Half Leg Sugaring (knee up) ~ $70
Full Legs Sugaring ~ $125
BOTH legs, from the thigh to the ankle including feet and toes

Abdominal Sugaring ~ $30
Brazilian + Underarms ~ $106.50
Brazilian Maintenance + Underarms ~ $76.50
Brazilian + Back ~ $175
T-Shirt Sugaring ~ $120-190
Shoulders, back, chest, and abdomen.
T-Shirt + Brazilian ~ $300
Couple's/BFF Brazilian/Maintenance ~ $160/110
Brazilian Sugaring for a couple or friends. M/F F/F M/M. This appointment reserves time for two people. Bring your sweetheart or best friend and Get Sugared together! Save $20 on the first visit and $10 on consecutive visits. First visit is $170 instead of $190 and consecutive visits are $110 instead of $120.