Sugaring hair removal is quickly becoming recognized as a superior alternative to waxing and laser hair removal, however, it is still a niche. If you are a licensed Cosmetologist or Esthetician looking for valuable continuing education, this is a perfect training workshop. Advanced sugaring hair removal training will give you the confidence you need to begin practicing sugar waxing in your salon, spa, skincare studio or private practice. Most companies that distribute sugar paste and supplies for sugaring require licensed individuals to obtain a certification in advanced sugaring before they allow you to purchase products and sugar paste.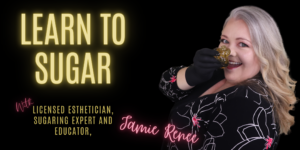 Sugaring Certification: Class Description and Cost
When you choose to receive your professional sugaring certification with me, you will learn the following:
Leg Sugaring
Bikini Sugaring
Underarm Sugaring
Eyebrow, Lip and Chin Sugaring
Back Sugaring for men*
*Most companies do not use male models for their basic sugaring certifications. If you have a male clientèle base or know you would like to expand your demographic and begin providing hair removal for men, you will have the opportunity to learn how to provide sugaring services for them.
Requirements: If you are a licensed beauty professional, cosmetologist, esthetician, or in school studying to be licensed in the beauty industry, you may take the training class and become certified in the art of body sugaring.
The Advanced Body Sugaring Certification is a 16 Hour, 2-Day class. This class has not been approved yet for continuing education credits in the state of Texas.
Location: 204 W. Bedford Euless Rd. Suite 101, Hurst, Texas 76053
Sugaring Certification 2021 Class Dates
Cost: $785 for two-day, 16 hour class, *INCLUDES KIT. Why is does your class seem so expensive?
Your kit will include:
38oz. tub of Regular Sugaring Paste
4 oz. bottle of Tea Tree Cleanse
4 oz. bottle of hydrating moisturizer
4 oz. bottle of skin tonic
4 oz. bottle of drying powder
1 box of Nitrile gloves 100ct. (you need extra small, very fitting gloves for sugaring)
Advanced Brazilian Sugaring Waxing Boot Camp Class: Is a four-hour intensive class, one student only. Prerequisite is the foundational two-day class and two months experience/practice OR be able to demonstrate proficient sugaring skills on the legs, underarms and basic bikini line in a timely manner prior to taking the Brazilian Boot Camp class. Sugar paste, products and models must be provided by you, men, women or both; it's your choice**. You can use my location or I can come to you (within 30 miles or additional cost TBD depending on location).
Cost for Brazilian Sugaring Boot Camp: $425, additional hours if needed are $60 an hour. This INCLUDES 30 miles travel.
Cost for Brazilian Sugaring Boot Camp with my models, my location, & my products: $595, additional hours/models; $80 an hour and/or model. I provide 4 models, you choose if you want them all female, male or a combination of both.
Reservations: ** You must reserve a place in the sugaring class at least 3 weeks prior to start date. This allows ample time to acquire all models needed with adequate hair growth. This assures that you will receive the very best hands on training. You MIGHT have the opportunity to get in on a class last minute if there is an open spot available. Feel free to reach out if you would like to join. However, your kit may not be available to you should you register less than two weeks prior to start date. You may reserve a spot in any upcoming Body Sugaring class, online. Alternatively, you can send me an email to [email protected]. I will invoice you the non-refundable deposit. You may pay the balance at the time of class. All future classes will now be created on EventBrite. You may pay only the deposit of $150, free of credit card fees and then pay your remaining balance in cash or check at the beginning of class. Alternatively, you may pay ALL or the balance online via Eventbrite which includes credit card fees.
* I Travel * If you are in need of quality continuing education but do not have the means to travel, I will travel to your location to train you, your staff or students. Sufficient class size is most affordable. 8 Weeks notice is needed along with a $800* non-refundable deposit. This covers the necessary travel reservations. The remainder of the class cost, dependent on class size, will be due three weeks prior to class start date. Should an emergency arise and class dates need to be rescheduled, students will be responsible for any fees associated with changing the travel reservations. Please contact me at 817-680-1462 to discuss the size, location and cost of training. I look forward to it.
Class Kits: Professional sugaring kits are included and will be given to you in class. If you live out of state and wish to have it shipped, I will certainly do so. We will be using my supplies during class and all models are provided. A low temperature sugar warmer is not included in the kit. If you would like to have a sugar warmer, please let me know and I will order one for you. Sugar warmers are $149. You will want to have all the products and sugar immediately after class in order to practice, practice, practice!
*Refunds and Cancellation Policy:A $150 non-refundable, non-transferable deposit is required when reserving a spot for a sugar hair removal workshop. You may pay the balance of $635 on the day of class. You may cancel your reservation and receive a 100% refund (-$150 non-refundable), up to three weeks prior to class date. If you cancel within 3 weeks of the class, your class fee ($635) can be transferred to a new class date, minus the $150 non-refundable deposit.
Are there any payment plan options for the tuition?
About Jamie Renee, Licensed Esthetician, Sugaring Educator
Why choose me for your educator?
My name is Jamie Renee. I am a Licensed Esthetician, Esthetic Educator, Massage Therapist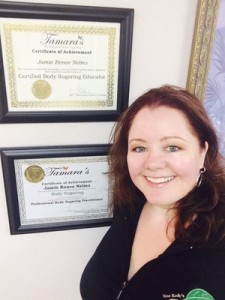 and a certified body sugaring educator for 8 years. I have worked with a number of sugaring companies as well as used their sugar pastes and supplies. These include but are not limited to: Simply Sugar, Sugar Streak, Sugar of the Nile, Alexandria's, Tamara's, Ke Kō, Tapira's, Sugar Love, Sugaring Factory, Salon Sugar, Artistic Pro, Sweet Professionals, Lauren's Sugar and Spice, Sweet and True, and Sugar Smac, Caribbean Candy, and Sugar Goddess. My desire is to provide licensed individuals the opportunity to obtain valuable continuing education that is cost-effective, rewarding, and most importantly, convenient. I know all too well the frustrations of having to travel in order to receive quality continuing education for Estheticians. In 2012 I founded Sugaring Source, the crème de la crème of all things sugaring hair removal. Sugaring Source is a niche based directory for all licensed professionals who have received formal hands on training in the art of sugaring. This includes manufacturers and educators. There is no reason to spend extra money to fly to me or any other educator IF there is a reputable and qualified educator near you. Of course, I will be happy to educate you, always.
I do not manufacture or distribute my own sugar paste. Currently, I use three different pastes for different reasons. I am brand neutral. I will always encourage you to try different brands. You will learn which is most effective for you, your treatment room and your clients. There isn't a "one-sugar-fits-all" kind of paste.
After your certification, you will always be able to call on me for advice, consultation or simply a helping hand. If you need further hands-on assistance, we can arrange all the time you need (so long as you are local) as I will come to your location and we will work with your clients together to build your confidence. I will not leave you high and dry after your sugar training. I believe my success as an educator is indicative of your success. I'm not here to simply train you in the techniques of sugaring, but to facilitate your financial growth with this niche.
Furthermore, I have the knowledge and experience to help you market yourself effectively to get clients in your door. I am not simply a sugaring educator, I have a thriving practice where sugaring services make up nearly all of my massage and skincare studio's revenue.
I remain quite objective when discussing waxing and sugaring. Sugar vs Wax. Knowledge = Success. I have received advanced education in body waxing, Brazilian waxing, body sugaring and Brazilian sugaring. I love different aspects of both waxing and sugaring, I am not biased. I am not biased when it comes to brands of sugar pastes either. I can talk sugar ALL day, so if you have ANY questions, concerns, or advice, I am more than pleased to discuss it ALL with you. I support sugarists, manufacturers, and sugaring educators nation wide. I will not undermine the capabilities of other educators to simply boost my own. You can trust that I will objectively have your best interests at heart, always.
I have chosen to become a sugaring hair removal educator because I believe in empowering entrepreneurs and success driven individuals with a niche in this industry. Sugaring is becoming more popular and more people are learning about its advantages. I look forward to assisting you with your success.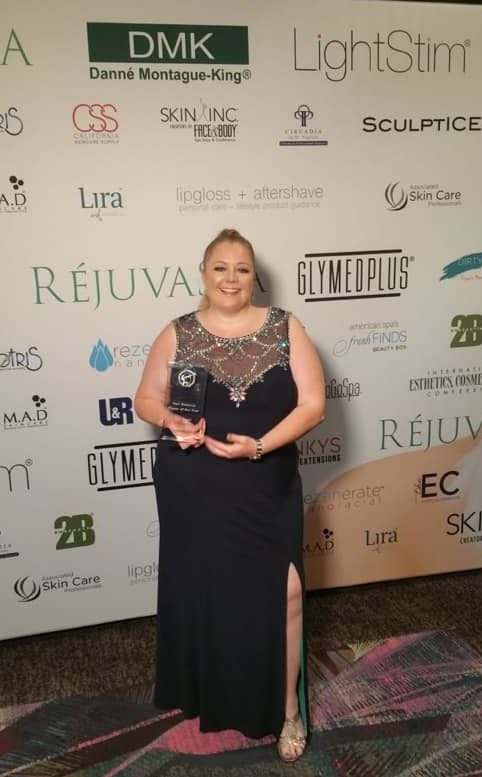 June 2019, The Skin Games ~ I was judged by my peers and respectable colleagues in the waxing and sugaring industry and was honored to have been awarded 2nd Place in the Hair Removal Category. Save