I hope this update finds you well. As the seasons change, so does the world around us, and I am excited to bring you an insightful glimpse into the latest developments, services, and availability that matter most to Your Body's ReTreat clients.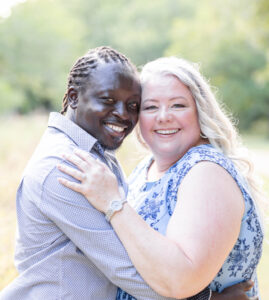 In less than four weeks, I will say "I Do", and become a married woman. While I will not be taking an immediate "honeymoon", I will be taking some time off between October 10-22. Please schedule accordingly. My current schedule is M|W|F 9-5 and Sat. 8:30-3:30. Remember, I am flexible and accommodating to established clients. If you need earlier or later, I am certain I can accommodate you. Keep in my mind that the waitlist WORKS! Melissa and I receive cancellations and check our waitlist daily.
Congratulations are in order for Melissa! Last October she embarked on an educational journey to obtain her full cosmetology licensure. Melissa has ambitions of becoming a nail artist. She found she really enjoys hair as well. Melissa recently graduated and passed half of her cosmetology exam. Melissa's new schedule is T|TH|F 9:30-3 and Saturdays 9am-4pm.
Jaedyn is available on Mondays. She is a licensed Esthetician and a past student of Jamie's with excellent sugaring skills. While Jaedyn is developing her timing, she is thorough. Pablo is our resident Massage Therapist. Promotions on sugaring w/Jaedyn and massage w/Pablo are available on our Special Deals page.
This economy is definitely taking a toll on us. I feel it, I know you do as well. I've created a few packages to help you save some money. There are packages of 3, 6, and 12. They are pre-purchased packages with promotional expiration dates. You may purchase them via our website or by sending money via Zelle or Venmo. Hurry! The promo ends at the end of September and will not be offered any time soon. Check them out here on this page.
Have you not visited in quite some time? We miss you! Let's get reacquainted. If you have not scheduled in over 3 months, schedule your sugaring Brazilian this month for $54.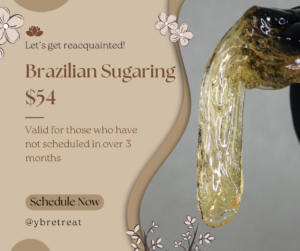 I'm thrilled to introduce our latest lineup of cutting-edge skincare services designed to rejuvenate and revitalize your skin. The Epifusion is a needleless and non invasive infusion facial. We create channels with crystallized 3D Hyaluronic spheres. With Collagen Induction Therapy we aid in the penetration of botanical extracts and rich minerals which instantly plumps, soothes, and smooths the skin providing noticeably firmer and more hydrated skin in just one treatment. View our special deals page for our current savings on facials and skincare.
With the Skin Classic device, Melissa and I are now certified to remove flat skin abnormalities such as skin tags, telangiectasias (broken capillaries), Cherry Angiomas, Sebaceous Hyperplasia, Brown Spots, or Lentigo, seborrheic keratosis, black heads, milia, and cystic acne. Please ask us about this service, we would love to assist you with any irregularities you are annoyed with.
For those that purchase Scentsy warmers and wax from me, here is the link to the current party. You will receive 20% back in service dollars for every Scentsy or retail purchase made through September and October.
BIRTHDAY SPECIAL: Do we have your birthday month on file? Text us your birthday (don't forget to include your name) 817-680-1462 so we can ensure it is on file. Chances are, if you have never received your $20 off, we don't. We want to be better about honoring your special day!
Thank you for staying current with us. I cannot thank you enough for your continued patronage.