Autumn is among us! I imagine it is most our favorite time of the year. In this newsletter, I hope to cover ALL of the BIG things happening for Your Body's ReTreat and myself.
Availability • Cancellation/No Show • Investments • New Products • New Treatments • Packages • The Skin Games Competition • Sugaring Classes • Sip n Shop Dates • Birthday Deals
Availability: I embark on my LAST vacation/time off of the year October 7-16. Melissa is about to fulfil her ambition of going back to school. Melissa's availability will soon be limited to Thursday afternoon/evenings, all day Friday and Saturday.
My (Jamie's availability) open to schedule online is Mondays, Wednesdays, Fridays and Saturdays. I am open and willing to provide early morning and later evening appointments for established clients. Please text or call me if you would like to come in before 9am or after 5:00pm. I am reserving Tuesdays and Thursdays for admin work, marketing endeavors, and case studies for skin. They are also my "make up" days for when we must miss our normal work days due to being out for vacation or sick leave. In the event I need to open Tuesdays or Thursdays, I will.
Cancellation/No Show Policy Reminder
JOIN THE WAITLIST!! • TEXT US!! • JOIN THE WAITLIST!! • TEXT US!! • JOIN THE WAITLIST!! • TEXT US!! • JOIN THE WAITLIST!!
Schedulicity, our online scheduler is built to optimize our schedules. Many times it will leave 15 minute gaps here and there. The parameters are set to allow a specific amount of time for each service, depending on what that service is. MANY times, I do not need the full amount of time. I'm left with 15 and 20 minute gaps in my day. Many of you are flexible and willing to move 15 minutes up or down and that allows us to accommodate more clients. So please, Join the waitlist and text us at 817-680-1462. We will find a way to accommodate you!
Investments and Growth
I've made some pretty huge investments into my business this year. I've acquired new technology, machinery, devices, and skincare. I've also been continuing my education, learning more about skin, new skincare lines, cosmetics etc. Be on the lookout for new services coming soon. Some have already been implemented, like the Geneo+ , dubbed "The Facial of the Future". Well, the future is now!
In the skincare side of our business, we have been offering Rezenerate, LED Light with Celluma and Illuminate, hydroderm and microdermabrasion, nano/microneedling, microcurrent, electroporation/plasma infusion, oxygen facials, and Elaine Brennan peels. Your Body's ReTreat has offered in the past, skincare from companies such as Osmosis, Rhonda Allison, Skin Scripts, and Image. We are now offering Circadia, Le Mieux, and Hale and Hush, the sensitive skin experts. I am thrilled to now offer three exclusive lines from Korea (K Beauty) StoryDerm, ISov, SMTS, and one from Spain, Ekseption. The treatment offerings are unparalleled. In the next couple of weeks will be training and introducing Skin Classic and JetPlasma. New information about these lines and the treatments will be up on the website soon. Korean skin care treatments, polishes and peels are available NOW though, please inquire if you are interested.
Packages and Gift Certificates
Many of our new treatments being offered are best when experienced as a package. We are partnering with Cherry Finance, Sezzle, and Afterpay to allow our clients to experience these services without an immediate impact to their pocket book. We will update this newsletter and post an article on our site just as soon as this option is available. We are awaiting word from underwriting now. AfterPay is available. You can view current specials and packages HERE. Would you like a custom package? We can create it for you. Please inquire.
Many of you know that I competed in The Skin Games 2019, sugaring competition. I was a judge for the 2021 games and will be again for the 2022 games. The Skin Games is like the Academy Awards of Skincare and Esthetics. I've decided to compete in several skincare categories this year. This means I will have an 8 week case study for each category I compete in. If you have problematic skin or serious issues, and think you'd be a great candidate for a case study, please reach out to me. The live red carpet dinner and award show will be held in Atlanta March 16-19, 2023.
Sugaring Classes
I have two classes left this year. Next weekend Sunday/Monday October 2 and 3, and again November 16 and 17th. I need a few models for next weeks class (backs, legs, bikinis, faces, underarms), and again in November. Email me at [email protected] to be put on the model list. If you've been interested in the past and are still interested, still email me. Thanks!
Sip n Shop/Raffles
This Sunday, September 25 from 2pm-4pm, we will have our first Sip n Shop. MANY items will be greatly reduced to make room for newer products. Items reduced are select products from Spongelle, Image, artisan soaps, kids bath items, lip glosses, lip scrubs/balms, FarmHouse Fresh, and Rhonda Allison. Everyone who attends will be entered into a raffle for free services! You don't want to miss this. It is free to attend. If you know you'll be able to make it, please RSVP to 817-680-1462
Birthday Deals
Did you know, if you are an established client, you receive $20 off a service during your birthday month. Typically you'll receive an email. However, your birthday may not be in the system. Please either email us at [email protected] or send us a text to 817-680-1462. Let us know your first and last name and what month your birthday is in so we can update it in the system.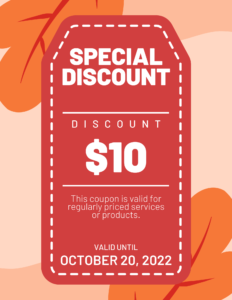 Thank you for following Your Body's ReTreat, keeping in touch, supporting my small business, and being a part of this wonderful journey. Client satisfaction will always be a priority. If you ever have any feedback or suggestions, I'm open ears! Melissa and I look forward to seeing you in our treatment rooms soon! We wish you a fabulous fall beginning!
Jamie Renee
Your Body's ReTreat
[email protected]
817-680-1462
Sugaring Classes/Models
[email protected]