Schedule your Sugaring services for your
Summer vacations NOW!
We have all been awaiting for this, the day the mask mandates begin to lift and some normalcy enters our lives.
The vacations we all postponed have now arrived, including the ones for your super sweet sugaring gals, Jamie and Melissa!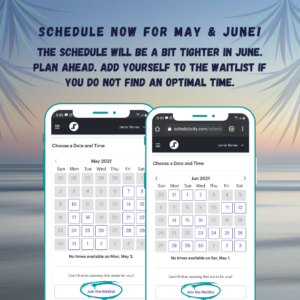 We have continuing education, trade shows, and family vakays this year that we want all of you prepared for. We will update this list of dates as they change.
Jamie's Vacations Dates:
June 4-8, 2021
June 17-22, 2021
August 26-31, 2021
October 22-November 2, 2021
Melissa's Vacation Dates:
When scheduling, please add yourself to the waitlist should you not find an optimal time. We have cancellations regularly. If you have a trip or special event you are planning for, it is advised to schedule your sugaring appointments early.
New Communication Methods!
For years, I have been using Constant Contact for my email marketing. I am paying for a service I do not use very often. I want to engage with you all but also do not want to come off spammy or gratuitous. Last year I signed up for Simple Texting, testing the waters for SMS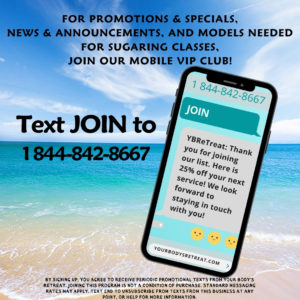 engagement. I have decided to move all communication over to the Square platform, since this is the merchant processing my business uses as well. I am hoping to find it streamlined. SO, this means if you were signed up for SMS last year, you will need to OPT IN to the new system. You may do this by texting the word JOIN to 1-844-842-8667. You'll receive 25% off your next service (*up to $100). I use email and text for important announcements, news, updates that seem important for established clients to know about. In the event of any emergency information, such as an unplanned business closure, we would make posts on our Facebook and Instagram pages, and we would also write a quick post here about it. We encourage our clients to follow us on one of our social media outlets for the quickest notifications.
I will be disabling SIMPLE TEXTING on June 1, 2021 and all future SMS will come from the Square platform.
Thank you for staying in touch with us! Thank you for being a part of our thriving business. We enjoy our visits with you so much! It is not just about sugaring, skincare, and lashes; It is the time we get to catch up, learn from you, share with you, and laugh with you. Thank you for allowing us to be a small part of your monthly self care! ~ Jamie and Melissa