Happy New Year Yall!
I know I'm a month late. January was a doozy. Many of you must be wondering what is going on with our schedule as most of it LOOKS like both Melissa and I took a month long hiatus.
I was down with the rona NYE (again), as soon as I was out of quarantine, Melissa was man down (not because of me). I was great for two weeks and then a sinus infection got me, AND THEN, unexpected renovations have occurred. With all this being said…WE ARE HERE FOR YOU!!
Two things; We are available although it may look like we are not. We have blocked online scheduling in hopes of accommodating everyone that needed to be rescheduled during our absence. If we leave it open, new people would book and we want to accommodate our loyal, regular clients FIRST. Simply put, it is blocked so we have more control. Also, Schedulicity will think we need more time for a service when we really do not. Our clients are flexible and a 15 minute move up or down and we can squeeze you in! TEXT US 817-680-1462 or JOIN THE WAITLIST. We work through our waitlist everyday as we receive cancellations daily. The schedules have been updated for more online booking convenience!
Second item; PRICING. We raised our prices only 10% but NO MORE than $5 on most of our services. Brazilian Maintenance is now $60 (for all our regular and loyal clients who are receiving the service within 6 weeks. A Brazilian Maintenance for new clients and those later than 6 weeks, the cost is $75. We charge $15 for trimming so if it has been so long since your last Brazilian that you need trimming, the charge is $90. This is the very first time we have had a rate increase since 2010. Schedulicity will show $75 for Maintenance, however, we will deduct $15 for the $60 rate when you checkout. This is our way of having a "membership" without actually charging you automatically monthly. Please keep in mind the pricing on Schedulicity is inflated in the event we REALLY have a client who needs extra attention. Pricing is subjective and we base our pricing on density of hair, amount of product used, and the time it takes to complete the service.
Jamie will be working the next 2 Sundays, February 6 and 13! Get your Valentine's sugaring appointments scheduled now.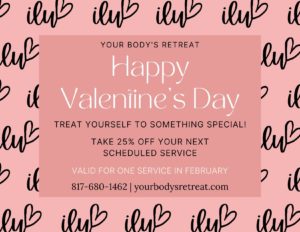 We know several of you have had to see other sugaring providers in the last month. We totally understand. We do miss you and hope you will return.
The entire building has gone through some major renovations and upgrades. Melissa and I are excited about the improvements and we think you will be just as impressed as we are. I have added a new suite, #103. January has slowed down the progress incrementally but all good things are definitely worth the wait.
We have three Estheticians that are also joining us part time, Angeles, Lilli, and Dezaire. You may have seen Angeles on the schedule already. We look forward to making their introductions very soon!
We thank you so much for your patronage in 2021 and look forward to sharing 2022 with you! ~ Jamie Renee
Have you missed your appointment due to being sick? Don't worry if it has been past six weeks. If you schedule NOW for anytime in the next 2 weeks, we will honor the regular maintenance visit price of $60!