Spring Renewal Skincare Event 2022 ~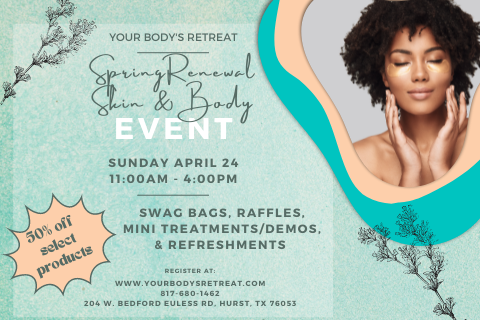 Sunday April 24, 2022 11:00am – 4:00pm
Location: Your Body's ReTreat. 204 W Bedford Euless Rd. Ste 101, 102, and 103. Hurst, Texas 76053
Contact: [email protected] or 817-680-1462
Register $25.00: Receive a swag bag of samples and minis, raffle tickets for services, and more.
We will be showing off our new retail and treatment suite. Skincare equipment and modalities will be shown and demoed. See below for something super exciting!
Your Body's ReTreat carries a vast array of skin and body products for both men and women. During the skincare event, there will be exceptional promotions including BOGO. Every hour we will raffle off a product or service. Gift certificate deals for facials and massage* will also be available.
Get ready for Mother's and Father's Day at the Spring Renewal Skincare Event! Check out the Gift Giving Guide HERE!
Brands we carry:
Farmhouse Fresh
Image Skincare
Rhonda Allison
StoryDerm
Isov
Spongellé
Ballsy
Nōyah
Prince Reigns
Tamara's
Sweet & True
Sé Brazil
Super Exciting!!!
I've been given a rare opportunity to demo the Oxygeneo 3 in 1 facial treatment technology. I will have 3 extra available treatments to perform between Saturday and Sunday. The Oxygeneo treatment typically ranges from $180-$250 at local spas, dermatology offices, and med-spas. I will be offering the service for $99! Sssshhhh! If you would like to be one of the 3 lucky people to grab this deal, please call or text me 817-680-1462. Take a look at what the Oxygeneo can do for your skin! This is ONLY AVAILABLE on Saturday April 23rd and Sunday April 24th. Call me today to book. Prepurchase required as I only have 3 available. We do not want to risk wasting the opportunity on no-shows or non-committal.
Oxygeneo 3-in-1 Super Facial!
What makes OxyGeneo a Super Facial? OxyGeneo provides 3 effective facial treatments simultaneously. It combines gentle exfoliation, natural skin oxygenation, and a deep facial rejuvenation with the infusion of essential revitalizing nutrients.